Hello Friends!
A couple of weeks ago we did a photo shoot to show off some of our brand new designs and to better picture some items we have had for awhile. I thought you all might like to get a little glimpse into what goes into these photo shoots so I snapped a few photos of the process throughout the two-day shoot and wrote out a little diary for you. Enjoy!
Day One
7am: Up and ready to iron! I need to make sure everything is prepped and ready to go for our first shot of the day: the Red Camp Collection. We want to make it look like a camp-style boys room, I have collected what we call "tear sheets" to base our shot off of and help us visualize what we want our picture to look like. This time I collected most of them from Pinterest!
8 am: Our wonderful crew arrives! Rick Szczechowski our fantastic photographer, his assistant Charles, and our lovely stylist Carey Cornelius. We could not do it without them. Seriously, we couldn't do it. We offer them coffee and muffins and get to work putting the first shot together. It will take a lot of work before we are even ready to take the first picture so we have to get moving! Carey keeps tweaking until Lynne, Rick and I are all pleased with the set up.At the last minute we decide to plop Bailey (Lynne's constant companion) into the shot. Perfect.
9:30 am: Rick begins shooting, tweaking the lighting and adjusting... whatever it is he adjusts. Around 10 am we are done with the shot and ready to move on. Next up we have a bunch of "tight shots" to do within the same basic set up. This means we will keep the bed the same and just put different pillows on the bed and take a close-up of them for the website. There are always a lot of these to do with any given shot.
11 am: We've broken down the last shot and are now setting up for the Charleston Bed shot. I am SO excited about this one! Hunting around Grandma's house for sweet little props is always a fun job. For this shot I found a small set of antlers that Grandpa brought back from Germany decades ago and a little sign he must have found in Ireland. The "W" is from my apartment.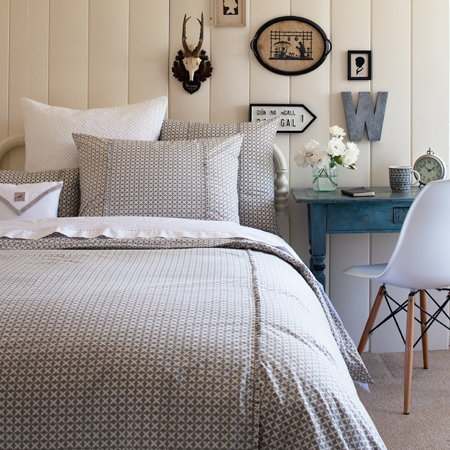 12 pm: By noon we are ready to shoot. By 1pm we have finished the main bed shot and the tight shots. We finish by taking a few pictures of our new crib pillows in an old iron crib and break down the shot. While all the styling and shooting is going on there is always at least one of us ironing for the next shot.
1ish: Lunch! We picked up sandwiches at Schreiner's German Deli - I used to go there with Grandma all the time as a little girl. I love that the woman behind the counter always wears a dirndl.
2pm: On to the Watson bed. Carey and I played around with the pictures behind the bed forever but we finally got it just right. I found the perfect hydrangeas for the shot right outside near the old greenhouse. Start shooting it Rick!
3:30: Next we quickly switch out the Watson Quilt for the Brown Camp Quilt and get in a few shots for the website. Now it's just a few more tight shots and we are go to go!
5pm: It's a wrap! Our faithful crew heads out for the night and Brian, Lynne and I move all the furniture back where it's supposed to go. Then it's on to prepping for tomorrow's first shot!
7pm: Hearty ribs for dinner. Thanks Janet!!
Day Two
8am: Everyone arrives. Brian moves his blow-up bed out of the front hallway and we start moving furniture out of the way for our first shot. We are mainly in the front entrance of the house today so it'll be nice not have to go up and down the stairs all day!
9am: The bed is in place and Carey is working hard getting all those ruffles and linen to behave while Rick, Charles, and Brian work to get the light just right. We play around with all different angles on this one to make sure and get the best possible look for the Hampton Natural Linen Duvet.
10am: Rick is shooting the first bed and Carey and I are planning out the next one while Ali irons. Thanks Alison!!
11am: We are prepping the next bed, the White Hampton Linen Duvet. We don't have to change too much so our main focus is moving the camera angle outside so the image is from the front porch looking in - love it! I even lopped off a tree branch and held it in the frame so we could add interest to the upper part of the shot.
12pm: Stroke of brilliance - let's get Alison's dog Dot (a champion show pooch) to sit on the porch! Perfect! Wait... how great does Ali look trying to get Dot to sit on the porch?? Take a picture Rick!
1pm: Lunch. Today all we want is In N Out - yummy yummy burgers. Pass the fries.
2pm: Tight shots on the White Hampton bed.And lots of fetch with Lynne's lab, Bailey. She was loving all the extra people to play with!
3pm: We move into the breakfast room to take pictures of our newest curtain panels and nightwear.To pool (the curtains) or not to pool, that is the question.
4:30pm: It's a wrap! Now we just need to pack everything up and put this mad house back together!
5pm: Good bye friends! See you next time!!
7pm: Tacos and dessert out by the pool. A good end to a very busy couple of days.Bailey is wiped.
I hope you enjoyed this little glimpse into a Taylor Linens photo shoot! I'll be back soon with more blog posts! Though I'll try to keep the rest a little shorter. *wink*
- Julie